A collection of A.I. Generated poems, by Charles Bernstein & Davide Balula. Read by Charles Bernstein's synthetic voice.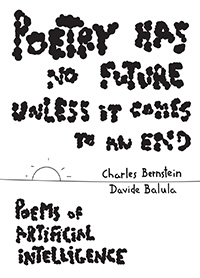 Poetry Has No Future Unless It Comes to an End. Poems of Artificial Intelligence
A collection of poems by Davide Balula and Charles Bernstein
The poems in this collection were generated by between April 2020 and May 2022 by a neural network trained on Charles Bernstein's own writing. The readings were performed by a synthetic voice trained on Charles Bernstein's voice, using recordings from the audiobooks Topsy-Turvey, 2021 and Near/Miss, 2018, both published by University of Chicago Press.
Published on paper by NERO Editions, Fall/Winter 2023 with additional support from KAJE.world
PURCHASE A HARD COPY OF THE BOOK :
USA: Printed Matter
IT: Nero Editions
FR: Les Presses du Réel
Contact distribution@neroeditions.com for more locations near you.


Format: 17 x 24 cm
Pages: 104
Language: EN
Year: 2023
ISBN: 978-88-8056-218-4
300 ex.
Published on paper by NERO Editions, Fall/Winter 2023.
With additional support from KAJE.world

Download the full AUDIOBOOK and more on the PENNSOUND archive