BOOK RELEASE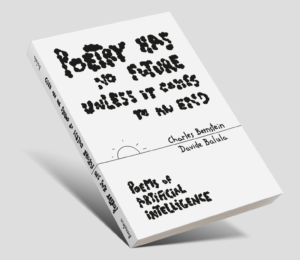 Poetry Has No Future Unless It Comes To An End. Poems of Artificial Intelligence.
A collection of A.I. generated poems by Charles Bernstein and Davide Balula
These poems were generated between April 2020 and May 2022 by a neural network trained on Charles Bernstein's own writing.

Published by NERO EDITIONS Fall/Winter 2023
With additional support from KAJE.world

HARD COPY now available to order:
USA: Printed Matter
IT: Nero Editions
FR: Les Presses du Réel
Contact distribution@neroeditions.com for more locations near you
DOWNLOAD THE AUDIOBOOK COMPANION
Performed Charles Bernstein's synthetic voice.
.mp3 (47min soundtrack)
.m4b (47min audiobook format)
and more on PENNSOUND.


---
LAUNCH EVENT: Volume 01
Wednesday, May 10th 2023, 7pm
John Giorno Foundation*
222 Bowery, New York, NY 10012
Readings by
Charles Bernstein
Mei-mei Berssenbrugge
in collaboration with Davide Balula
Tracie Morris
Sahra Motalebi
Jimin Seo
Event is free, but space is limited.
Rsvp required: Us@Viseu.Us
We very much look forward to seeing you there!
Julia Trotta & Davide Balula
*Special thanks to Anthony Huberman and Bonnie Whitehouse.
Founded by the artist Davide Balula and curator Julia Trotta, Viseu.Us is a new online publication dedicated to the voices of artists and writers. Each issue is guided by intuition, friendship, and fandom, and brings together a collection of voices across generations and artistic disciplines.
Charles Bernstein is a poet, essayist, scholar, and sophist. He has published dozens of books. Forthcoming: Poetry Has No Future Unless It Comes to an End: Poems of Artificial Intelligence, in collaboration with Davide Balula, from NERO Editions. In 1998, with Jay Sanders, he curated the exhibition Poetry Plastique, which explored the intersection of poetry and the visual arts. Bernstein is co-founder of PennSound, the largest online audio archive of poetry readings.
Mei-mei Berssenbrugge is a poet with fourteen published books to her name, including Hello, the Roses, Empathy, and I Love Artists. Her collection A Treatise on Stars was a finalist for several awards, including the National Book Award and Pulitzer Prize. In 2021, she was honored with the Bollingen Prize for Poetry, recognizing her lifetime contributions to American Poetry and was awarded the Mary McCarthy Award for her public engagement. Mei-mei Berssenbrugge has also collaborated with Kiki Smith and Richard Tuttle on the upcoming chapbook Plant Thought.
Tracie Morris is a poet, performer, artist and scholar. Pushing the boundaries of language, sound, moving image, and meaning, Morris has presented work at venues ranging from intimate cafes to renown arts institutions such as Dia Art Foundation, the Kitchen, MoMA, and the Whitney Biennial. She has published several collections of poetry, including human/nature poems and handholding: 5 kinds: on the other hand. Morris holds a PhD in Performance Studies from New York University and has held teaching positions at the Iowa Writers' Workshop, Brown University and the University of Pennsylvania. She has earned numerous awards and fellowships, including a Guggenheim Fellowship for poetry.
Jimin Seo is a poet, musician and personal trainer. He earned an MFA from Columbia University. He was a finalist for the Nightboat Book Prize in 2022 and was awarded the Changes Book prize in 2023. His poetry has been featured in numerous publications including The Canary, The Dark Horse, LitHub, and Pleiades. He is the co-editor of the literary journal Couplet Poetry.
Sahra Motalebi is an artist, vocalist and educator. She has exhibited and performed internationally at The Kitchen, SculptureCenter, Swiss Institute, New Museum of Contemporary Art, Hydra School Projects, Watermill Center, the Villa Empain, MoMA PS1 and the Whitney Museum of American Art. In 2019, Motalebi participated in the 79th Whitney Biennial.
Viseu.Us ~ Volume 01
Charles Bernstein, Mei-mei Berssenbrugge & Davide Balula, Joseph Grigely, William Leavitt, Tracie Morris, Sahra Motalebi, Moira Roth, Jimin Seo